Base
PiSA GmbH was originally founded in 1989 as a technology company in Berlin. The founders of the company have developed and successfully marketed an innovative software development platform based on the so-called repository approach.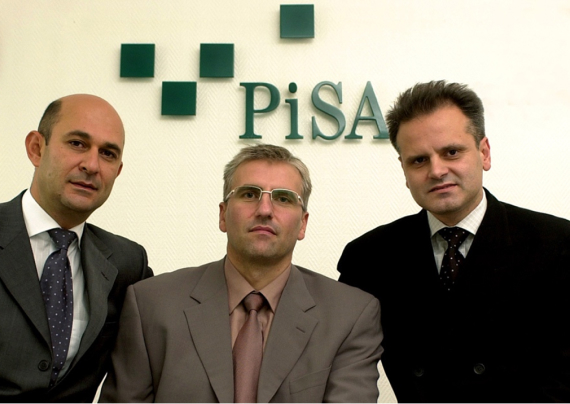 The PiSA-founder 1990 f.l.t.r. : Alexander Abaew, Frank Rieger, Anastasios Kotsilas
Own building
In 1994, the foundation stone was laid for our own office building in Charlottenburgerstr. 4 in Berlin-Zehlendorf which was acquired by the company in 1996. It was a modern building that was specially designed and built for the needs of an innovative software house.
The PiSA headquarters in 1996
PiSA sales GmbH
In 2003, the development of a new type of CRM suite (customer relationship management software) began and the entire operative software business was transferred to the 100% subsidiary PiSA sales GmbH. From now on, PiSA GmbH acted as a technology holding company.
PiSA sales GmbH has successfully developed the first project-oriented CRM system on the market; a unique approach that has exclusively addressed companies in the B2B sector. The specialization in this market niche, which was not sufficiently addressed by the large enterprise solution providers on the market at the time, laid the foundation for the growth of the coming decades.
As a medium-sized provider of software solutions for customer relationship management (CRM) and any relationship management (XRM), the company now offers one of the most powerful CRM solutions on the German market. The PiSA sales CRM goes far beyond conventional CRM functionalities and completely covers marketing, sales and service requirements. For this purpose, the software company with around 65 software engineers has developed a number of modern solutions that can be operated both in the web browser and with mobile APPs.
At the same time, PiSA sales offered full service from a single source: from CRM consulting and rollout to comprehensive support and training. The PiSA sales CRM is now used internationally by well-known companies, including in the construction and construction supply industry, mechanical and plant engineering, electrical industry, metal processing, pharmaceutical trade, chemicals, energy suppliers, service and financial companies as well as B2B trade.
Excellence quality of service
100%
In 2020, Alexander Abaew and Anastasios Kotsilas had another milestone in the company's development in mind: the expansion of the in-house CRM portfolio by additional areas and thus wanted to lay a new foundation for long-term and solid growth of the company.
As a consequence, the two founders contributed their shares in PISA sales GmbH to JustRelate Group GmbH as an anchor investment. Today, the in-house CRM system forms the cornerstone of the group of companies, which, together with a CMS platform and other modern software solutions, offers a complete digitization platform for companies in the B2B sector and for the public sector (more info
www.justrelate.com).